Booking Tours and Appointments
OPC's can book tours by calling the control room or directly on-screen by themselves. Prints or e-mails confirmation letters. Tracks solicitation performance. Reports sales by solicitor, including closing
percentage and volume per guest. Prints or displays tour pipeline reporting by office or market source. Vendors can upload their tours via the web. Numerous tour arrival lists.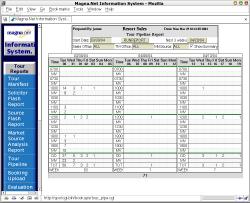 Tomorrows Tour Manifest Today
Real-time status of all tours on the manifest
Choose summary for a quick overview with out each tour, switch to detailed for all the information. Click on a tour to see the tour information
VPG of these tours per WAVE, podium based sales centers love this!
Know expected tour-flow before arrival at the Sales Center – no guesswork. If something is "off", you need to know now.
Select Geographic area, sales center, vendor, OPC for dates in the past today or tomorrow, YOU CHOOSE!
All Manifests and Sales results are viewable from any web enabled computer – even your iPhone, iPad and Blackberry!
Providing your marketers with instant results for follow up = higher tour flow.
Avoid the hassles and expense of fax, email and phone-tag = reduced administrative costs.
Your vendors, solicitors and OPC's can only see their tours.
Eliminate the "paper shuffle" so information stays secure and can't go "missing". Protecting reports means proprietary data remains confidential.